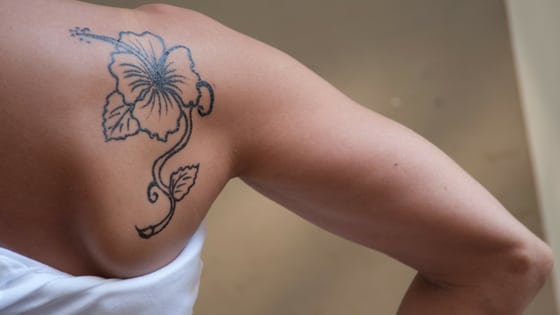 What Bins Do You Need For Tattoo Shop Waste Disposal? 💉
Tattoo Shop Waste Disposal 💉: Is there anything more Australian than a wicked tattoo? Australia used to be a nation of cricket, cups of tea and quarter-acre blocks. Now it seems we are the country of artisan espresso, hipster beards and full-sleeve tattoos.
One of the most interesting things we noted when the lockdown eased in Australia and other countries – was how so many people rushed to tattoo parlours as soon as possible. The media even reported that many people had done very poor self-inflicted tattoos during the lockdown.
---
>Download Now: Free PDF Business Owners Guide To Medical Waste Bin Services
---
Thankfully, the lockdown has eased the last year in most areas, so you can avail of a clean tattoo shop to ensure the highest levels of hygiene and quality.
Many of our customers operate tattoo parlours throughout Australia, and a very common question they often ponder on is "What sort of bins do I need for an effective tattoo shop waste disposal"?
Customers want to ensure a clean and safe environment and also be compliant with any relevant legislation.
A bit about Waster
Waster works with small and medium Aussie companies to boost recycling and keep their costs low.
We provide all related services (business garbage collection) from general waste bins to recycling, sanitary bins and medical waste bins that a tattoo parlour would require.
You can easily and securely arrange your services online by hitting the banner below:
What is an effective tattoo shop waste disposal system?
Running a successful tattoo shop in Australia will mean you need to be a great artist, and a great business person and also adhere to all best practices such as following a strict tattoo shop cleaning checklist to adhere to tattoo hygiene. You can see the NSW EPA tattoo shop cleaning checklist/factsheet here. 
Key takeaways for tattoo hygiene and meeting requirements for a tattoo hygiene certificate include:
"Clinical/biohazard waste (i.e. waste containing any blood or bodily fluids) must be disposed into a clinical waste bin and then collected by a licensed waste contractor.
"Premises must be properly equipped with: a waste disposal bin.
"All waste should be bagged appropriately and disposed of daily."
Maintaining a clean and hygienic tattoo shop is even more important in a post-COVID world.
It should be clear that running a hygienic and clean tattoo shop will ensure your business is more profitable and sustainable. After all, lots of people search for "clean tattoo shops near me" every day!
A tattoo shop will require general waste and recycling services like any other business of course. A standard 240-litre wheelie bin can be very appropriate dependent on the size of your shop etc.
Do I also require a medical waste/clinical waste bin for tattoo shop waste disposal services?
According to Health NSW:
"Tattooist and other body art practitioners conduct procedures that involve skin penetration. Because 'skin penetration' carries a risk of infection, the premises and procedures where skin penetration is conducted must comply with the Public Health Regulation, 2012.​"
This website explains that the parlour must have an adequate waste disposal bin and also: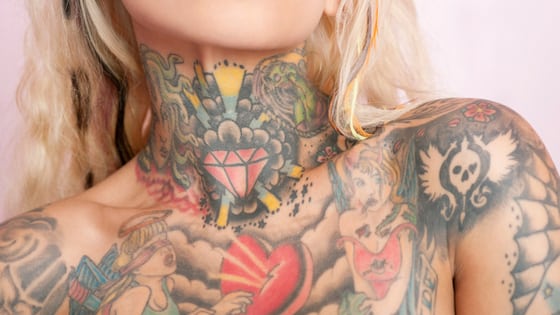 "If needles are used in any skin penetration procedure, they must be single use and disposed into an appropriate sharps container which complies with AS/NZS 4261:1994 Reusable containers for the collection of sharp items used in human and animal medical applications, or AS 4031 – 1992 Non-reusable containers for the collection of sharp medical items used in health care areas."
The Tasmania DHHS explains:
"Infectious waste, such as blood-stained swabs and blood-contaminated gloves, produced on the premises must be placed into a bin clearly marked "infectious waste" and kept out of reach of children."
How to easily and cheaply arrange a medical waste bin for a cleaner shop
You can easily and quickly arrange a medical waste bin in 120-litre or 240-litre sizes for your business. These standard sizes provide sufficient space for storage for most businesses.
You can also dispose of a sealed sharps container inside the medical waste bin for no extra cost on collection.
Dispose of sharps (e.g., needles) inside a sealed sharps container. This is for obvious health and safety precautions. You can then drop the sealed sharps container inside the medical/clinical waste bin for collection.
For your convenience, we can also arrange to deliver new sharps containers each time we do a swap over on your medical waste bin, so you never run out of sharps containers.
Use the medical waste bin in a tattoo shop for any material (e.g., cloth etc.) that came in contact with bodily fluids. We take These bins to a specialist medical waste facility where those responsible will treat them using an autoclave (very high heat) or incineration. Both these methods use very high temperatures to kill any bacteria in the tattoo shop waste.
Conclusion on an effective tattoo shop waste disposal system
Considering how many people search in google every week for a "clean tattoo shop near me" it should be clear to everyone that hygiene is as important as the tattoo itself. This is of course even more important as COVID lockdowns end.
Seeing some of the terrible homemade tattoos done during the lockdown made us happy to see that professional and hygienic tattoo shops have made their comeback, operating as usual.
Arranging medical waste bins, general waste, sanitary bins and normal recycling is super easy for any tattoo parlour. You can expect a cost-effective service and ensure you can focus on your actual business of doing great tattoos with Waster.
Waster provides you with an easy-to-arrange and inexpensive required service, considering that you can dispose of your sharps in the medical waste bin at no extra charge (when in a sealed sharps container).
This will ensure you comply with relevant legislation and focus on what you do best!
For related business, check out our more recent blogs on how beauty salons can really boost their recycling performance and also this blog on waste management for dentists in Australia.