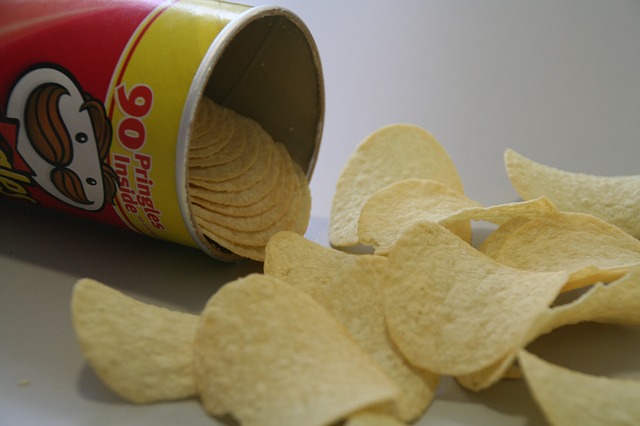 Ways To Recycle Pringles Cans ♻️
Ways To Recycle Pringles Cans ♻️: To date, this is one of my most favourite topics to discuss with you! That is because I have been a sucker for Pringles ever since I was a child up until now. I can eat a lot of those – the original flavour – on a lazy day.
I know some of you love it, too, as much as I do (or even more so). But let me ask you this: what do you with the cans left after emptying it? After all, there may be some environmentalists here that want to be informed on how to deal with the cans properly.
Do you find ways on how to recover it for the good of the environment? Or do you just chuck it in the rubbish bin?
Some people may wonder if you can recycle a Pringles can or not. As a result, we have done our research to help you know the answer! Read on to learn more.
---
>Download Now: Free PDF Business Owners Guide To Commingled Recycling Bin Services
---
A Bit About Waster
Before we discuss the ways on how to recycle Pringles cans, let me share with you more information about Waster.
We here at Waster provide you with innovative solutions for you and your business's waste management and recycling needs. Furthermore, we provide flexible, 30-day contracts instead of the typical lock-in contracts, which proves to be better.
Click on the blue button to learn more.
---
READ: Kerbside Bin Collection 🗑️
---
Things You Should Know Before Trying To Recycle Pringles Cans
For us to truly know this can's recyclability, we must first know its composition.
Essentially, a can of Pringles is made from foil, paperboard tube, a resealable plastic cap, and a metal cap at the bottom.
Now, the real question here is with these different types of materials present in a Pringles can, can we truly throw them in the recycling bin and wait for it to be recycled?
The Answer: Maybe Not… Yet
As we have already mentioned above, we will find Pringles can recycling difficult because of the different components it possesses. If you really do want to recycle the Pringles cans you have at your home, you first have to separate the components, which is quite difficult to do.
To summarise, you can recycle the individual parts such as the lid, for example.
Even though we can see a "recyclable" label imprinted on the can, many still argue and prove this to be false. It is not uncommon for manufacturers to label their products as recyclables. After all, no one is really stopping them from doing so. According to an article published by the Sydney Morning Herald, this can lead people into doing something wrong: trying to recycle something non-recyclable by normal standards.
Their interview with Brad Gray of Planet Ark perfectly sums this up:
"Currently manufacturers of packaging and products can put any label they like on it, to say it's recyclable. But it's not backed by any evidence, so they could be telling people to recycle stuff that isn't actually recyclable," said Brad Gray, head of campaigns at Planet Ark.
So, is there really not any way we can recycle Pringles cans in the present or near future?
We Can Recycle Pringles Cans In The Future!
There are three things in life that are certain: death, taxes, and change. That is also true with the Pringles can's packaging; it will change in the near future, prompting it to be more easily recyclable.
Kellog Company recently announced that they are changing the components of the Pringles can in the UK this September as a test trial. The trial occurs in select Tesco stores.
The Pringles can – originally made from foil, paperboard, metal, and plastic – will now be changed into a new tube made of recycled paper. The Kellog Company claimed the new Pringles can as "widely recyclable".
This is in part of Kellog's movement to ensure the Pringles can's 100 per cent recyclability, compostability, and reusability by the end of 2025.
Use Your Creativity
For the meantime, until the Pringles can truly become recyclable, you can use your creativity and try to upcycle it.
There are many websites that provide tutorials on what to do with your Pringles cans, an example of which is Pinterest.
You can turn your Pringles cans into various things like a pencil and pen holder, a kitchen utensils holder, improvised pots for your plants, or even a base for a design this coming holidays!
You can also turn it into a cute sunglasses case! Take a look at this video:
Ways To Recycle Pringles Cans: Quick Summarisation
Are Pringles packaging recyclable? The answer is both a yes or no. Technically, as we have mentioned above, you can recycle the parts of a Pringles can. However, as a whole, that can turn out quite difficult for the facilities. As a result, recycling facilities discourage throwing of Pringles cans in the recycling bin.
However, expect this to change in the future. In the meantime, you can find ways on how to creatively transform your cluttered Pringles cans at home into something much more useful with the examples stated above.
Need A Waste Management Company? Call Waster!
Are you a small or medium business based in Australia? Are you in need of various waste management and recycling services? How about the shredding and disposal of your private and sensitive documents? Maybe you also need someone to clean your grease trap; Waster offers all of these services!
Examples of our service include general waste, cheap cardboard recycling, commingled recycling, medical waste disposal, secure document shredding, sanitary bins and any other services.
You only need to click the blue button for more information.
Did you enjoy reading our blog? Check out our blog on PPE waste management for a similar learning experience.
Waster: Things You Need To Know
If you're looking for different bin services, check our waste recycling shop and find the best deals in terms of pricing and services.
Also, please call 1300 WASTER (1300 927 837), or email us at enquiries@waster.com.au if you have any further questions.