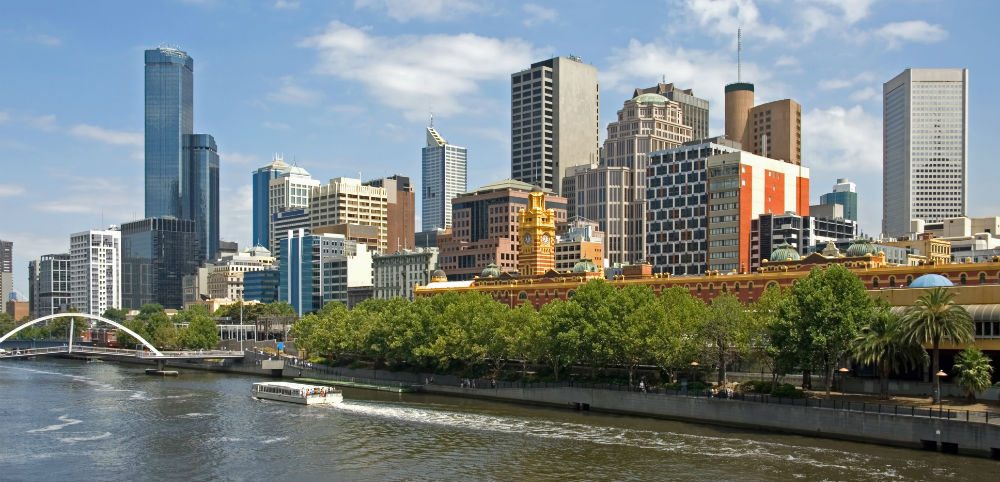 Rubbish Removal Melbourne Price: Smartest Bins For Businesses! 🗑️
Rubbish Removal Melbourne Price 🗑️:  Victorians are rightfully extremely proud of their beautiful state capital of Melbourne. The second most populous city in Oceania (I like that description) has managed to combine an extremely business-like and productive work ethic with an unparalleled reputation in the creative arts, sports and culture as well as simply good old-fashioned night life. If you want somewhere to visit to experience a vibrant big city in Australia, then of course Melbourne has to be your first port of call.
With a population north of 4.5 m Melburnians and with a metropolitan region stretching around Port Phillip Bay, Melbourne is one of the strongest areas for Waster, enabling us to offer extremely competitive pricing and excellent service standards. Note: businesses in Geelong can check out our overview of booking services in the Gateway city: waste management Geelong.
---
>Download Now: Free PDF Business Owners Guide To General Waste Bin Services
---
Rubbish removal Melbourne price 2023 overview
As a major financial and industrial city with a very diverse business base, Melbourne has a comprehensive waste infrastructure across the CBD.
The metropolitan region is subject to legislation by the Victorian EPA – see link to the EPA official website here, you can also access other useful rubbish removal documents for Melbourne through our waste resources page.
A Government backed agency that can also provide business owners with useful information regarding rubbish removal in Melbourne and recycling is Sustainability Victoria.
Victoria has moved to a rather complicated "fee unit" method of calculating landfill levies imposed on disposing of waste at landfill (relevant for Rubbish Removal Melbourne). As at the time of writing (08 December 2019), the current fee units per tonne of rubbish dumped is 4.45 in the metro region.
This equates to a total waste levy per tonne of rubbish dumped of $65.90. Whilst this cost is significantly lower than that imposed in New South Wales – it is still a significant additional cost for businesses in Melbourne.
Effects of the additional cost
This additional cost imposed on businesses in Melbourne as well as extremely competitive recycling prices can make active recycling by your business a viable way to boost business profits. As a general rule, recycling tends to garner businesses more profit in large urban areas where they have shorter transport distances to processing facilities and can collect significant volumes of valuable commodities. Note that recycling in Melbourne has certainly had a tough year in 2019, with the closure due to the fire of a major recycling plant.
Other changes implemented to rubbish removal Melbourne legislation for 2019 and 2020 was a complete ban on dumping e-waste such as computers, TVs etc. at landfill. You can see more detail on that here.
You can also check out our article on document destruction Melbourne.
What does Waster offer to business customers in Melbourne?
We encourage you to check out our prices in our  online waste management shop. You will be able to compare prices and services and be confident that the price you see is the price you will pay each month – something great to think about if you are pondering on getting our rubbish removal service in Melbourne. Of course, Waster has no hidden charges such as environmental fees, admin fees or rentals.
Waster's publicly- quoted pricing model delivers large cost reductions for businesses with regular bin collections such as multiple collections per week or more than one bin on site. To give you an example, check out other services such as grease trap prices in Melbourne.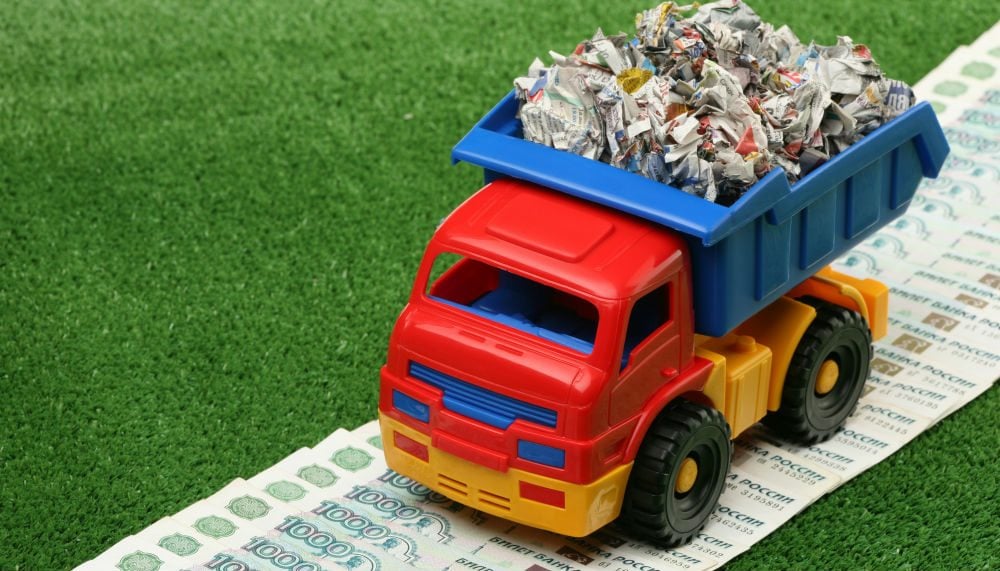 Where does Waster operate in Melbourne?
Waster provides rubbish removal and recycling services all across Melbourne, with the best price you can find. Do take note that Geelong is also serviced at the same prices as Melbourne metro under most categories.
Our prices apply to the following postcodes. Please contact us if you have any queries and our friendly customer service team will answer all your questions.
Melbourne Postcodes
3000, 3002, 3003, 3004, 3006, 3008, 3011, 3012, 3013, 3015, 3016, 3018, 3019, 3020, 3021, 3022, 3023, 3024, 3025, 3026, 3027, 3028, 3029, 3030, 3031, 3032, 3033, 3034, 3036, 3037, 3038, 3039, 3040, 3041, 3042, 3043, 3044, 3045, 3046, 3047, 3048, 3049, 3051, 3052, 3053, 3054, 3055, 3056, 3057, 3058, 3059, 3060, 3061, 3062, 3063, 3064, 3065, 3066, 3067, 3068, 3070, 3071, 3072, 3073, 3074, 3075, 3076, 3078, 3079, 3081, 3082, 3083, 3084, 3085, 3087, 3088, 3089, 3090, 3091, 3093, 3094, 3095, 3096, 3097, 3099
3101, 3102, 3103, 3104, 3105, 3106, 3107, 3108, 3109, 3111, 3113, 3114, 3115, 3116, 3121, 3122, 3123, 3124, 3125, 3126, 3127, 3128, 3129, 3130, 3131, 3132, 3133, 3134, 3135, 3136, 3137, 3138, 3139, 3140, 3141, 3142, 3143, 3144, 3145, 3146, 3147, 3148, 3149, 3150, 3151, 3152, 3153, 3154, 3155, 3156, 3158, 3159, 3160, 3161, 3162, 3163, 3165, 3166, 3167, 3168, 3169, 3170, 3171, 3172, 3173, 3174, 3175, 3177, 3178, 3179, 3180, 3181, 3182, 3183, 3184, 3185, 3186, 3187, 3188, 3189, 3190, 3191, 3192, 3193, 3194, 3195, 3196, 3197, 3198, 3199, 3200, 3201, 3202, 3204, 3205, 3206, 3207, 3335, 3337, 3338, 3427, 3428, 3750, 3752, 3767, 3802, 3803, 3804, 3805, 3806, 3807, 3910, 3911, 3912, 3913, 3915, 3916, 3918, 3919, 3920, 3930, 3931, 3933, 3934, 3936, 3937, 3938, 3939, 3940, 3941, 3942, 3943, 3944, 3975, 3976, 3977
Geelong Postcodes
3214, 3215, 3216, 3218, 3219, 3220, 3224
Suburbs serviced include (but not exclusive to): Carlton, Carlton North, East Melbourne, Jolimont,  Flemington, Kensington, North Melbourne, Port Melbourne, Fishermans Bend, Parkville, Southbank, South Yarra, West Melbourne, World Trade Centre, Batman's Hill, Digital Harbour, NewQuay, Victoria Harbour, Waterfront City, Yarra's Edge, Albert Park, Balaclava, Elwood, Middle Park, Port Melbourne, Beacon Cove, Garden City, Ripponlea, St Kilda, Southbank, South Melbourne, Abbotsford, Alphington, Burnley, Carlton North, Clifton Hill, Collingwood, Cremorne, Fairfield, Yarra Bend, Fitzroy, Princes Hill, Richmond, Bellfield, Briar Hill, Bundoora, Eaglemont, Eltham North, Greensborough, Heidelberg, Heidelberg Heights, Heidelberg West, Ivanhoe, Lower Plenty, Macleod, Montmorency, Rosanna, St Helena, Viewbank, Watsonia, Yallambie.
Rubbish removal bin Melbourne price: our flexible contracts for rubbish removal bins
Waster offers the most flexible and reliable rubbish removal Melbourne service – we are so confident in the strength of our offer that we do not tie customers to long contracts. Our flexible 30 day contracts mean we always treat our customers well to ensure they stay with us over the long term.
The only thing I dislike about Melbourne, to be honest, is that Gaelic Football is better than AFL and the coffee is not great (the last one is a joke)!
Rubbish removal Melbourne price: answering questions
We were speaking to a potential client recently and he was quite knowledgeable about waste and recycling industry practices and had lots of questions before he agreed to sign with us.
Thankfully we were able to put his mind at ease and satisfactorily answer his queries.
We cover below some of the queries he raised and our answers to them.
At the same time, we were able to highlight the recent changes to rollover contract legislation impacting on small and medium business when entering waste contracts, covered in our blog on waste management Melbourne.
How long a contract do I need to sign for Melbourne rubbish removal?
Our new customer was very clear that he did not want to sign a lock in waste contract to have his rubbish collected- as his previous supplier had tied him in to a rollover clause.
We were easily able to put this fear to rest by emphasising our flexible 30 day agreements for professional rubbish removal. See Sydney waste services blog.
Do I really need an assumed density? I do not want extra charges!
When we quote for general waste bin hire, we provide pricing based on an assumed weight. We do not charge excess bin weight charges like some suppliers do.
Basically, if your bin is much heavier consistently than we originally agreed with you, we will provide a new price reflecting this. Under our 30-day policy, you basically can cancel our agreement if you do not believe this is fair or in line with our agreement etc.
We believe this approach is fairer as we do not like to surprise customers with higher bin prices on the month than they expected. This issue does not apply to recycling bins.
See our video as below on bin weights and density:
Can you limit any price rise to CPI every year?
On this one, we say no. Under our 30-day agreements, we keep prices low as it incentivises us, and we have even reduced client pricing in the past in Melbourne due to a commitment to a cheap price! However, if a state government increases the landfill levy significantly, we may need to revise our pricing in this regard. This is what affects rubbish removal prices not just in Melbourne, but in other places that impose and increase landfill levies.
Nevertheless, our 30-day agreement is your guarantee that we seek to minimise any pricing volatility on you the customer.
Boosting garbage recycling will also help you prevent increased prices.
Can you put in writing that there are no hidden fees such as bin rentals, site fees, environmental fees or anything else?
We sure can! You can find our terms and conditions doc here! If you are based in Geelong, check out our blog on rubbish removal Geelong.
Some thoughts on Melbourne rubbish removal price
Running a business is very difficult. The average small business owner faces more crisis by 9am on a Monday morning than an employee faces in a whole week.
By having a trustworthy and low cost waste and recycling provider for rubbish removal Melbourne- your business can save money and increase flexibility (whether you are in St Kilda or Port Melbourne).
Give Waster a call and we will be very glad to help you.
We provide all waste and recycling services. Please call to hire a skip bin services for large rubbish services, white goods or green waste removal.
Check out the City Of Melbourne below on some of the new recycling projects in Melbourne metro region:
Think about this when booking
When you book a bin service for recycling or rubbish removal in Melbourne , a great price and reliable services are what generally are at the top of your wish list. However, at Waster, we really believe in boosting recycling where possible. This benefits your bottom line (as recycling can often be cheaper than dumping at landfill) and also the environment through reduced carbon emissions etc.
In this blog we aim to cover some interesting developments in rubbish removal Melbourne (see our blog here if you are based in Adelaide) that can help us boost recycling and keep costs low.
Rubbish removal Melbourne: international projects for mattresses and other household goods
An article on the BBC highlights interesting projects where Belfast diverts its mattresses from landfill. We quote from the article below:
"As many as 800 mattresses a week are being processed at the warehouse off the Shankill Road in Belfast.
"They come from council recycling centres and bed shops which dispose of customers' used mattresses.
"At the warehouse, the mattresses are stripped down to their component parts.
"Polyester is sent off to make socks and fleeces.
"Foam is sent to make carpet underlay and a felt layer over the springs is used in equestrian centre flooring, as well as for acoustic dampening in cars.
"The steel springs are chopped up and the metal sent off for reuse.
"A small amount of fabric is sent to produce energy from waste in an incinerator.
"Manager Scott Jackson says more than 13,000 mattresses have been processed this year – diverting 400 tonnes from landfill.
"It is estimated that there are about 215,000 mattresses in UK landfills."
In Melbourne, there is a company that does house junk removals and then seeks to auction any valuables, potentially reducing your house removal costs.
What can you do with your plastic bags?
At Waster, we always try to help customers recycle more and dump less in landfill. This is for two main reasons – to reduce customer costs as general waste is usually much more expensive than recycling (particularly in Melbourne) and also, to help the environment. In our work as a rubbish removal Melbourne bin service company offering the best price in Australia, we often face an issue with how customers can dispose of plastic bags.
Many customers feel disappointed when they have to dispose of plastic bags in their general waste instead of including them in their commingled recycling bins. They often express surprise at this restriction.
In this section of the blog, we will explain why you cannot include plastic bags in commingled recycling bins. Additionally, we will provide information on places where you can bring plastic bags for free recycling. Lastly, we will discuss recent political changes aimed at reducing the circulation of plastic bags.
Why plastic bags should not go in your mixed recycling bins
We have had a number of instances in recent weeks, whereby commingled recycling bins have been rejected as contaminated (waste management industry parlance for a recycling bin that has a certain degree of general waste in it). Hence, it is categorised and picked up as general waste. This results in recycling commodities ending up in landfill and the customer-facing higher prices.
The separation system that commingled recycling bins currently go through does not let us recycle plastic bags.
Where can plastic bags be brought for recycling?
There are a number of opportunities for recycling plastic bags in Melbourne that do not require paying for rubbish removal Melbourne services.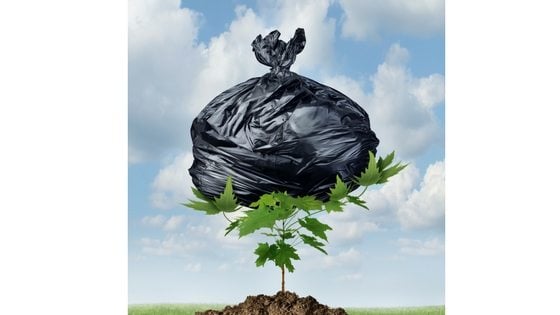 Important Note: As of 9 November 2022, REDcycle is on an indefinite temporary pause. 
REDcycle operates over 800 locations throughout Australia where you can drop off plastic bags for recycling.
As per their website:
"Drop your soft plastics into your nearest REDcycle collection bin and RED Group will do the rest.

There are more than 8

30

 participating supermarkets around Australia. 

REDcycle bins are typically located near the checkout. There are currently a few different types of REDcycle bins in use depending on the store so please ask at the customer service desk if you can't locate the bin."
We then see the eventual transformation of the material into numerous items in Victoria.
"The collected plastic is returned to RED Group's facility for initial processing, then delivered to Victorian manufacturer Replas where it undergoes an incredible transformation.

Replas uses the material as the resource to produce a huge range of recycled-plastic products, from fitness circuits to sturdy outdoor furniture, bollards, signage and more."
Ongoing changes to hopefully reduce the amount of plastic bags in circulation
Like any good doctor will tell you, prevention is much better than cure, and this is, of course, the same with recycling. We currently see lots of efforts in Australia and other counties to reduce the number of bags (and hence prevent the problem or at least minimise it before they even need rubbish removalists services in Melbourne) by placing a tax on bags at the point of sale. This tactic has already proven successful in countries such as Ireland. See an article on the wider issue of plastic pollution here at theconversation.com.
Final thoughts
Plastic pollution is a serious issue – and plastic bags pose particular issues. We can of course all play our part by using reusable or environmentally friendly (biodegradable) bags such as these by Aussie business Biome – or by disposing of them once used in services like REDcycle.
Check out our blog on the impact of changes in business recycling and how removing drinking straws can really help the environment.
It is also very important to remember that commingled recycling should not be bagged!