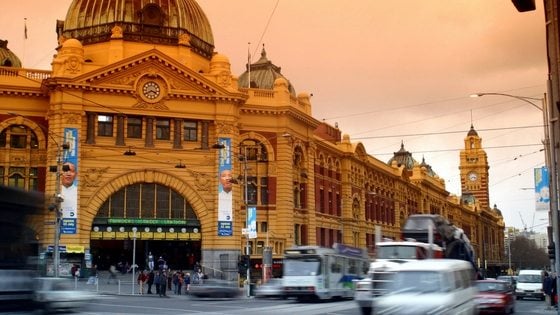 Waste Collection Melbourne ✔️: Commercial Bins Better Than Council Service?
Waste collection Melbourne: many customers come to us uncertain whether council or municipal based waste collection Melbourne services will be better for their business or whether a commercial service through Waster will suit their business needs better. We run through a couple of the considerations you will want to bear in mind when making the best decision for your business.
---
>>Download Now: Free PDF Business Owners Guide To General Waste Bin Services
---
Note: we have previously covered numerous aspects of waste and recycling services in Melbourne through our blogs such as rubbish removal Melbourne, waste management Melbourne and exploration of services such as grease traps, green waste removal and document destruction in Melbourne metro.  Of course, we offer all our services through our online waste shop – accessible by pressing the button below:
Is council or Waster better for your waste collection Melbourne requirements?
We examine below a number of questions as to which service provider is better suited to your business and offers a quality service:
A. Which days of service are available
Council collections are often only on a limited number of days in your area – this is akin to the way residential collections operate (i.e. their is a designated day each week for collections).
If your business requires more frequent collections – i.e. every day or say 4 times a week – the council may not be able to provide this service.
B. Service quality
In the instance of missed collections (which unfortunately does occur due to bad weather and other reasons), who do you call. Councils often offer very reliable and low price collections but organising follow up collections can be difficult – as can getting in touch with a customer service agent.
Delivery times for bins for rubbish collection Melbourne can also be an issue if your need bins delivered ASAP. Waster can often assist businesses with quick turnaround times for new bin requests (note: usually bins can be delivered within a week).
C. Recycling and other services
Waster offers comprehensive waste removal Melbourne and recycling services such as commingled, confidential paper, food waste, sanitary and grease trap. There is a distinct benefit in consolidating all your services under one supplier (on flexible 30 days terms)  – councils tend not to offer more than a few limited services.
Waster provides services for almost all waste including general waste, recycling, garden waste and hazardous waste in front lift and rear lift bin sizes.
D. Payment terms and time commitment
Waster operates on flexible 30 day agreements with payments one month in arrears. Many councils require you to commit for 12-24 months for their collection service, or require an up front payment.
E. Bin sizes
Many council services only provider smaller bin sizes such as 120 or 240 litre. Waster can assist you with all bin sizes to meet your business needs.
F. Does council still take on new customers?
Many councils have phased out (or in process of phasing out their waste collection Melbourne services) for commercial clients. For example City of Yarra Council – only offers small bins for offices and businesses to use for what is described as domestic waste – i.e. " The service is for domestic waste only (for example, rubbish and recycling from tea rooms and offices) and does not replace commercial waste collection services."
Conclusion:
Finding the right waste management services for your business may mean using council services or commercial services such as Waster.
It is best checking with your local council as a first step – as in many cases they can offer very cheap services.
If that is not suitable for you – private business collections and waste management solutions such as provided by Waster may be more suitable and cost effective.
Check out the video below highlighting some of the waste and recycling projects being run by Melbourne City Council
Bin collection Melbourne: opening a new business can be one of the most exciting times, but also one of the most stressful and exhausting times in anyone's life.
There are so many new things to learn and pick up all the time, things you had not even thought about learning. The marketing guru Joe Polish (who started as a small business owner in the carpet cleaning industry) says that entrepreneurs solve more problems by breakfast time than most people solve in an entire week.
Check out our services for bin collection Melbourne and rates by pushing the blue button below and give us a call on 1300 WASTER to discuss your options.
successful entrepreneur
.
One area where many small and new business people feel uncertain is in organising their wheelie bins Melbourne collection (and other areas in Australia for that matter) services.
In fact, many people are unaware that they even need to organise bin collection Melbourne waste services until the very last minute (we have literally had calls on the day of opening!.
Bin Collection Melbourne – how Waster can help you
We detail below a number of areas where Waster and it's online customer focused model can help small and medium businesses with rubbish collection Melbourne.
A. Provide information – Waster started as a small business not so long ago and we really believe in providing information to customers and potential customers (and just about anyone really – such as students) as we are passionate about the environment, helping small businesses and believe that best decisions are taking when you are well informed.
Check out our consumer guide to waste and recycling services for business owners where we provide answers to common questions.
You can also check out our waste services blog and frequently asked questions section for lots of details. Information leads to trust – an issue we cover in our blog on Perth waste management.
We have a waste resource section providing access to high quality third party information on waste and recycling such as government legislation etc.
B. Bin sizes – when opening a new business, most people find it hard to estimate how much waste they will produce, how many bins they will need and what sizes are best.
We always recommend you start with minimal bins and then increase from there.
We provide easy to understand bin sizes and dimension pictures as below and also have written articles on the right bin size for your business.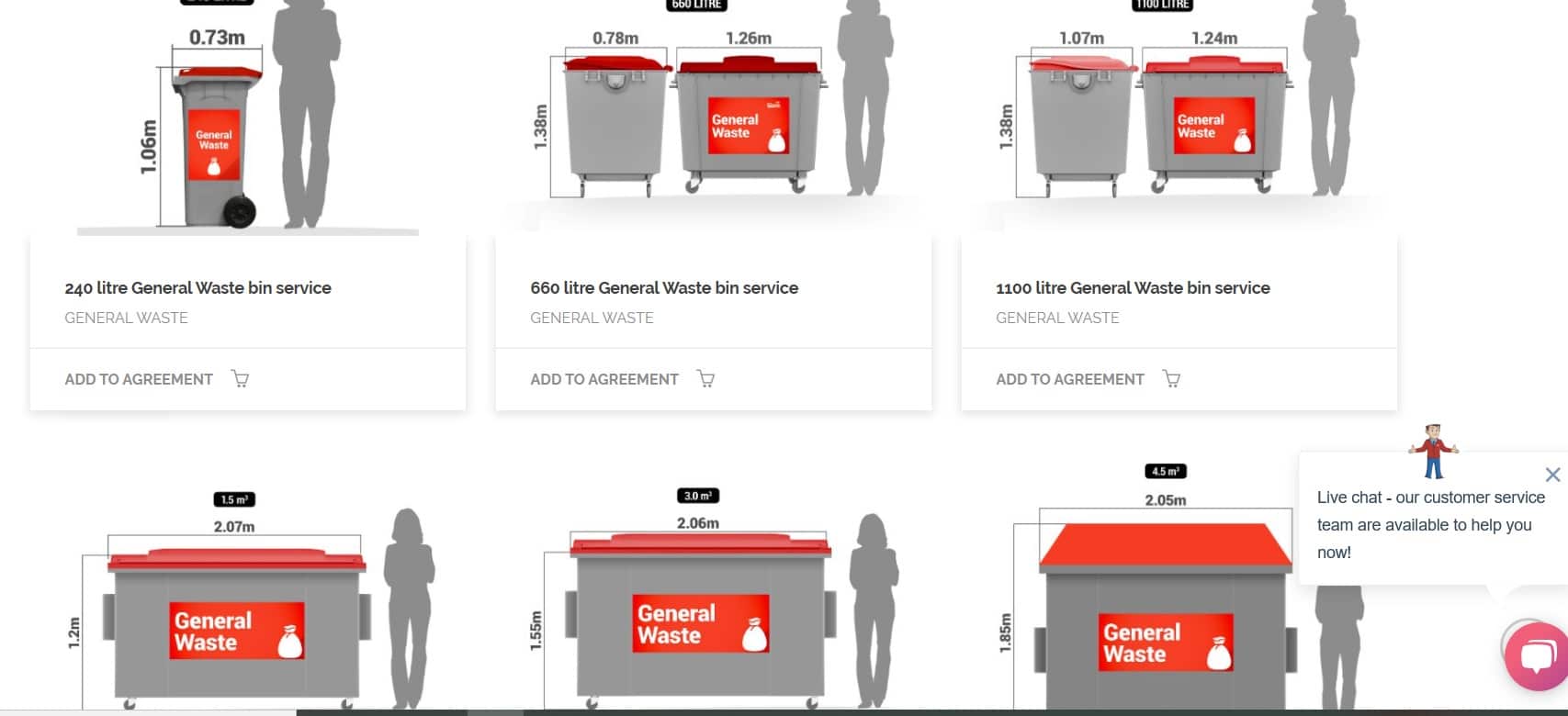 C. Simplicity of contracts and services – when you are starting a new business venture, the last thing you want to do is sign up to a long term contract, with potential cost increases and a rollover clause.
With Waster, all our services are delivered on flexible 30 day agreements (with one price adjustment per annum – the next one is 1st July 2020).
Check out our terms and conditions here as well as our pricing details and inclusions here.
D. Customer service – Waster is a customer service business – which means we respond promptly and efficiently to your concerns and queries.
All customers are given a dedicated contact person with contact methods including ticketed helpdesk, SMS and mobile phone contact.
If you bin is missed or you seek some information, just give us a call and we will rectify the issue.
Conclusion:
Starting a new business can be one of the most nerve wracking but rewarding experiences of your life.
When you start your business – it is vital to keep costs to a minimum and ensure flexibility and reliable services.
Waster offers exactly the service you require and can help you boost your recycling performance.
We are very happy to talk you through your options and will quickly explain how you can reduce costs with services such as green waste removal, organic waste bins or commingled recycling.
Check out the video below on some great tips when starting a new business:
Rubbish collection Melbourne: arranging competitively priced waste management and recycling services through the Waster online model is extremely easy – in fact we often say that booking your flexible 30 day agreement  for rubbish collection Melbourne is as easy as A,B,C. Check out our informative cartoon here – explaining how to arrange your services.
Waster is a revolution in waste management for small and medium businesses in Australia – we currently offer services such as wheelie bins Melbourne in all major metro regions throughout the country including Melbourne, Geelong, Sydney, Brisbane, Adelaide, Darwin, Canberra, Perth, Newcastle, the Central Coast NSW, Hobart and the Gold Coast.
How to book rubbish collection Melbourne services online?
You can arrange your required waste or recycling service through our online model for all bin sizes from 120 litres up to 4.5 cubic metres and all waste streams including general waste (red bin), paper and cardboard recycling (blue bin), commingled recycling (yellow bin), grease trap cleaning, sanitary bins, medical waste disposal, confidential paper disposal and organic / food waste. We have produced informative blogs covering all of these topics.
Whether you are searching for one off waste removal, a green waste collection, waste collection for your business on an ongoing basis or ways to boost recycling – we will be able to help you!
You can get quotes for these services by pressing the big blue button below:
Do I need to shop around for rubbish collection Melbourne services?
We encourage all our customers to inform themselves of the best pricing and service options to suit your business needs. We base our approach on providing education and information to customers such as our guide to buying waste services.
You can check all our prices online and we encourage you to shop around to see if any competitors will offer equivalent value, flexible 30 day agreements (no lock in contract) and customer service commitments.
Do I need to sign a long term contract with Waster?
Being honest – it is always a good idea for you to shop around. You will get a better understanding of prices and services in the market.
You will find out that not all companies in Melbourne service all suburbs and areas. Some companies may only be in your area one day a week. Other companies may not offer all recycling services.
Different business may not offer commingle recycling services or collect waste including food items or other organic waste.
By reading through our blogs and other information – you will gain a strong understanding of ways to boost recycling, obtain cheap rubbish removal services and hence keep costs down whilst helping the environment.
Waster offers all our smart waste management services on flexible 30 day agreements. We do not seek to lock customers in to restrictive long term contracts as we believe our strong customer service is our guarantee to enable customer retention.
Check out our pricing inclusions and terms and conditions for full details. Check our our blog on Melbourne waste management to find out whether Sydney or Melbourne ranks as more sustainable.
Check out a video below covering the city of Melbourne's journey to a sustainable future: