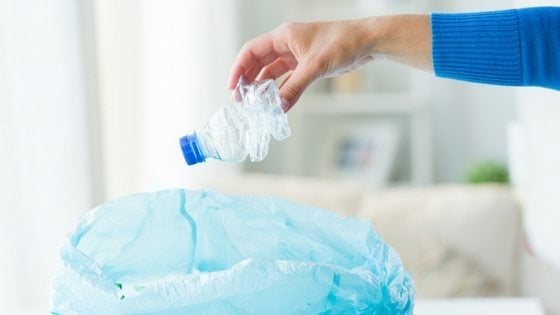 Plastic Bag Recycling: How To Recycle Soft Plastics!
In commercial waste management – one of the trickiest waste streams to find  a solution for is plastic bag recycling. When we say plastic bag recycling – this includes soft plastics such a wrap, cling film and plastic shopping bags such as provided by shops.
In today's blog – we cover some of the potential solutions for these bags – and also why they should not be included in your commercial commingled recycling bin (the yellow bin).
Waster offers a real alternative in waste services for small and medium Australian companies. We make it super easy to arrange your required garbage collection and recycling bin services. Though our user friendly online model – you can easily book your services at the click of a button – see below:
Plastic bag recycling – lets cover what you need to know!
When we speak to new customers – they are often surprised and a bit frustrated that plastic bags and soft plastics can not go into their commingled recycling bin – after all, it does seem annoying that there is not a better common solution than putting plastic bags (such a common item) into general waste bins.
Why a commingled bin can not be used for plastic bag recycling?
Many people think that plastic bags can go in the yellow commingled recycling bin. However, the contents of this bin will be taken to a MRF (material recovery facility).
These facilities are not suitable for separating plastic bags and hence they can disrupt the system. Another issue arises when bottles and cans are bagged in the bin – this can lead the bin to be marked as "contaminated" and charged as general waste as it will go to landfill.
What is the difference in dark and light plastic?
There is a huge difference as regards international recycling market demand. Most of Aussie recycling is shipped for processing in China – and in 2018, China has really clamped down on the quality of recycling product they will accept.
Through the Green Sword program – China will only accept higher grade recycling – and this means clear plastic.
"In Australia alone, about 619,000 tonnes of materials — worth $523 million — is expected to be impacted by the Chinese ban."
This means that even for larger soft plastic producers – it will be more and more difficult to recycle plastic wrap if it is not clean and of a good quality.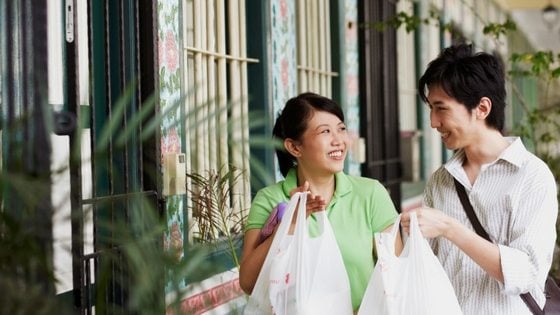 What other options are available for plastic bag recycling?
Thankfully – in lieu of the problem as described above – there are a couple of options for plastic bag recycling available. A program called Redcycle lets you dispose of soft plastics in bins positioned in supermarkets such as Coles and Woolworths – the bins are usually positioned near the front doors of participating locations. The plastic is recycled into items such as park benches etc. See our blog on plastic bubble wrap.
Plastic is becoming a bigger waste disposal issues every day.
As per the RedCycle website – they include items such as:
Bread, pasta and rice bags
Cereal box liners
Biscuit packets
Frozen food bags
Ice cream wrappers
Squeeze pouches
Plastic sachets
Bubble wrap
Cling wrap
Chocolate and muesli bar wrappers
Silver-lined chip and cracker packets
Confectionery bags
Fresh produce bags
Netting citrus bags
Polypropylene bags
Plastic film from grocery items like nappies and toilet paper
Courier satchels
Newspaper and magazine wrap
Sturdy pet food bags
Plastic bags from boutique/department stores
Large sheets of plastic that furniture comes wrapped in (cut into pieces the size of an A3 sheet of paper first)
Bans on plastic bags
Another step that many countries have moved towards to help plastic bag recycling solutions – isto charge a fee for plastic bags when you shop. This has operated in countries such as Ireland for many years and has had a great impact.
As per the ABC – "Single-use plastic bags are banned in South Australia, Tasmania, the Northern Territory and the Australian Capital Territory, while Western Australia and Queensland laws will come into effect next year." This change will also be implemented in Victoria.
Conclusion:
As with many things recycling related – plastic bags are tricky and prevention is better than cure. Their are options available for high quality clear soft plastic – and other plastics can be brought to a Redcycle location.
See our blog on the introduction of a ban on single use plastics.
We should also get behind our State Governments and lobby for legislation to reduce the number of single use bags also!
See our blog on what damage can be caused by simple drinking straws in business recycling.
See our blog on whether we will even need rubbish removed in the future.